Social Media Misconceptions 2 : "I have profiles on all the main sites/networks, so I'm using social media".
>
>
>
>
>
>
>
>
>
>
>
>
>
>
>
>
>
>
>
>
>
>
>
>
>
>
>
>
>
>
>
>
>
>
>
If you have got this far, then I consider that I have done well. Thank you for bearing with me. I hope all will become clear.
I've started my blog like this today to help illustrate an important point about being involved in, and leveraging, the social web.
When you click on someone's profile only to find they have never visited it themselves (i.e. never contributed anything to the network, never up-dated it), you are left with the same feeling that you got when you clicked on this blog. A somewhat negative reaction. "Why did I bother to look? There's nothing here for me".
This leads me nicely into my second blog in a series I am writing about social media misconceptions.
When conversing with people off-line about social media, one of the most common things I hear is: "Oh yes, I use social media. I've set up profiles on all the main sites and platforms".
However, on closer examination, it transpires that they have never engaged with that community or network. They rarely, if ever, tweet, blog, converse, engage, up-date … show up.
In my opinion, having static profiles is more damaging to your business than not having a profile at all.
Let me explain by using the analogy of a shop.
Social media engagement is not about selling or marketing. It is about relationship building: Giving people the chance to get to know you and trust you and then reaching their own conclusion that your product or service is right for them.
Your profiles are not your shops front for your business, service, or product. They are the shop windows for YOU. They should endeavour to be the "human face" of your business.
First of all, you want to make your profile attractive, interesting, different, and compelling to encourage people to come into your shop i.e. be interested in getting to find out more about you, start up a conversation with you, get to know you. This is where personal branding comes in, but that is another blog entirely!
Along with an attractive shop front that helps you stand out from the crowd, the most important element of your profile is fresh, juicy, organic, nutritious produce. And by that I mean fresh, compelling, valuable content. I believe that content is king on the social web and the more fresh and juicy yours is, the more relevant you are, and the more people will stop by your shop. Some will even come by every day to find out what your latest offering is, a bit like popping by a baker's to pick up a fresh loaf warm from the oven! (This is where "niche" starts to become a distinct advantage, but that again is a separate issue to be addressed in another blog …).
So, look at it like this:
An untended twitter account where the owner rarely or sporadically tweets is like a shop that only sells tinned goods. There is no fresh produce (content) on the shelves, and people soon learn that there's not much reason to visit your account as there's nothing fresh, new, or engaging on offer. Meanwhile, your competitor down the road has a whole window of fresh produce on display.
A blog that is left languishing for weeks with no new up-dates is the same as a shop where the shelves are virtually empty and there's dust in the front window display. Your competitors shelves are stocked to the brim with the latest offering displayed prominently.
An ecademy profile where the owner has never engaged, never blogged, never joined in is like a small shop with irregular opening hours located in the backwater of a town and it is questionable whether it is even still trading. Meanwhile the high street (community) is buzzing!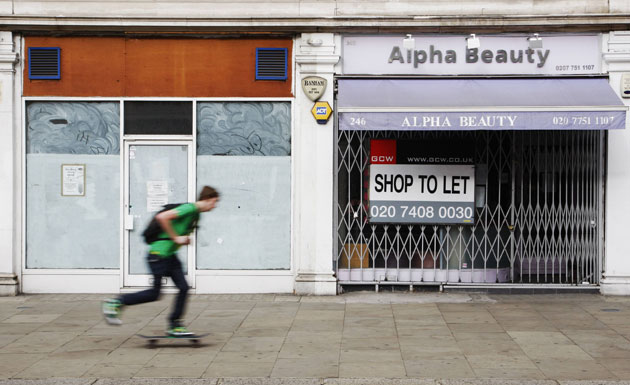 In all of these cases, passers by will …. pass you by. There is no reason for them to come through your doors, no reason to strike up a conversation with you. (And remember, almost everything in business starts with a conversation, so the more you have, the more business will flow to you … ).
Conversely, those people/businesses that use social media as another marketing channel and continually broadcast a one-way marketing message are equally ineffectual. (This includes people who blog and tweet and never come back to converse or answer questions or comments). They are the equivalent of a shop keeper who stands outside his shop with a megaphone shouting at the top of his/her voice. Or a shop keeper who thrusts a leaflet into the hand of every person who passes without a friendly "hello" first. In these instances, people will literally give you a wide berth as this is tantamount to spam. They will quickly decide that your shop is one to be avoided and they will actually cross to the other side of the virtual street to avoid you. (Unfollow you or ignore you).
So, when commiting to become part of the social web, be just that, social.
Be like the shop keeper who stands outside his shop, passing the time of day with visitors, chatting with the local community, seeing where he can help, letting them know that he has some lovely fresh nutritious produce in stock today. And if you don't have in stock exactly what the person needs, but you know that Mr. Arkwright three doors down does, then send them his way with a smile. (Advocacy).
Being consistent and providing fresh, organic, relevant content is one of the key elements of successful social media engagement IMHO.
So, set out your opening hours, provide fresh, compelling, engaging, and valuable content daily, converse, engage … and be social. You will find that a lot of people beat a path to your shop door to see what's fresh in today …. then they will start to bring their friends.
If you have got value from my fresh produce today, please do me the kind honour of clicking on these links below if they are of interest:
LAST CALL for my property/social media networking event taking place in Guildford this Wednesday, 27th January. Click >>>> here for full details and to register.
I also have a few places left on my "How to implement a social media strategy for your business" training day is on Saturday the 6th February in Guildford. For £80 for the day including lunch, you get to spend the day with me learning how to leverage the social web to enhance your business exposure. You are cordially invited to click >>> here for further details.
Thank you for visiting my blog. I hope you will be back soon as my shelves are up-dated daily!
Regards N


socialmediagraffiti.com